DOMENICO PELLEGRINO
Artista siciliano, nato a Mazzarino classe 74, che ha fatto delle tradizioni della sua terra il leit motiv del lavoro artistico. Una sua grande installazione racconta le tradizioni
Di Procida per Procida Capitale della Cultura ed una sua opera è stat dì recente acquisita da Dior per il nuovo punto vendita in Taormina. Ha realizzato il progetto delle vetrine per la maison francese Hèrmes per il Natale 2021, le vetrine delle nove boutique in Italia hanno raccontato l'Odissea: una riflessione sul tema del tempo, della scoperta e della tenacia, elementi che caratterizzano il viaggio dell'uomo alla ricerca di sé ma anche il percorso della maison.
Ha esposto alla 58. Biennale d'arte di Venezia, è stato l'unico artista italiano della Biennale arcipelago Mediterraneo, scelto dalla Disney italia per il lancio dell'ultimo film di StarWars a Milano, ha partecipato a Manifesta12 e a Palermo Capitale della cultura. Miti greci e leggende, supereroi contemporanei vestiti di tradizionali decori siciliani, le luci delle feste patronali che diventano un nuovo linguaggio utilizzato dall'artista, identificano le due principali collezioni di Domenico Pellegrino.
Vanta collaborazioni importanti con fondazioni, musei e gallerie nazionali. L'orto Botanico si Palermo ospita la sua scultura Genius Panormi sul Genio dì Palermo. Le sue mostre personali "Superheros" esposte a Palermo, Milano, Carrara ed in fiere internazionali, hanno raggiunto grandi consensi del pubblico sia come presenze che come impatto sui social media e sulla stampa specializzata. Raiuno, Tg5, Sole24ore, Arte.it, Chi, Il Corriere hanno dedicato ampio spazio ai lavori dell'artista.
Il progetto d'arte contemporanea Cosmogonia Mediterranea che racconta un viaggio "sottosopra" da Lampedusa a Lampedusa, attraversando luoghi simbolo della cultura siciliana è appordato alla Biennale di Venezia nel 2019. Cosmogonia Mediterranea è raccontato in un libro edito da Serradifalco edizioni, nel documentario "Effatà" del regista Martino Lo Cascio e nel documentario di Salvo Cuccia per l'Archivio delle arti, l' arte di Domenico Pellegrino è stata raccontata anche nel libro di Giovanni Terzi "Eroi quotidiani" .
---
Born in the town of Mazzarino in 1974, this Sicilian artist has made the traditions of his homeland the central theme of his artwork. One of his large installations conveys the customs of Procida for the Procida Italian Capital of Culture project and one of his works was recently acquired by Dior for its new boutique in Taormina. He created the 2021 Christmas window displays for the French fashion house Hèrmes, in which the windows of its nine Italian boutiques told the tale of the Odyssey: a reflection on the subjects of time, discovery and tenacity, elements that not only characterize the human journey of self-discovery but also the luxury brand's direction.
He exhibited at the 58th Venice Art Biennale, he was the only Italian artist at BAM-Biennale Arcipelago Mediterraneo, he was chosen by Disney Italia for the launch of its latest Star Wars film in Milan and he has participated at Manifesta12 and at Palermo Italian Capital of Culture.
Greek myths and legends, modern superheroes featuring traditional Sicilian motifs and the innovative use of colorful festival lights are the hallmarks of Domenico Pellegrino's two main collections.
He can boast major collaborations with foundations, museums and national art galleries. Palermo's Botanical Gardens are home to his sculpture of the Genius of Palermo, Genius Panormi. His "Superheros" solo exhibits in Palermo, Milano and Carrara and at international trade fairs were hugely successful with the public in terms of attendance and impact on social media and specialized press.
Raiuno, Tg5, Sole24ore, Arte.it, Chi and Il Corriere have all devoted ample space to the artist's works.
The contemporary art project Cosmogonia Mediterranea, which narrates an "upside down" trip from Lampedusa to Lampedusa, passing through symbolic places of Sicilian culture, was presented at the Venice Biennale in 2019. Cosmogonia Mediterranea is talked about in a book published by Serradifalco Edizioni, in the documentary "Effatà" by director Martino Lo Cascio and in the documentary by Salvo Cuccia for the Archivio delle Arti. Domenico Pellegrino's art is also mentioned in the book "Eroi quotidiani" (Everyday Heroes) by Giovanni Terzi.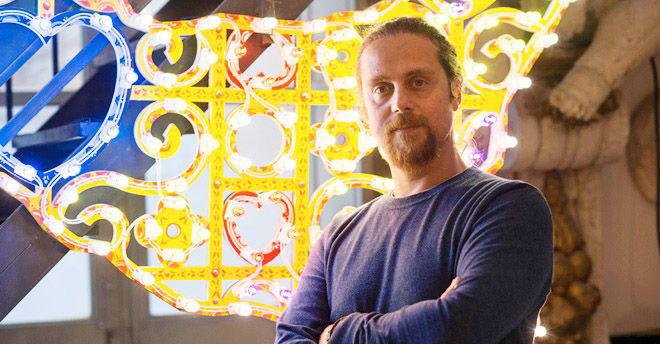 Alcune sue opere: