New enogastronic options await you during the month of september at Sicilia Outlet Village!
Take a relaxing break during your day of shopping and enjoy the new wine & food offerings available in our eateries.
Our restaurants and cafés will be pleased to welcome you for breakfast, lunch or an aperitif served onsite on in their comfortable outdoor dining areas.
Customers wishing to consume food or drinks at indoor tables will be required to show their Green Pass*.
*In compliance with Decree-Law no. 105 dated July 23 2021.
Bresaola carpaccio with buffalo milk mozzarella from Campania, arugula, cherry tomatoes and olives, accompanied by a glass of Charme (Firriato Winery)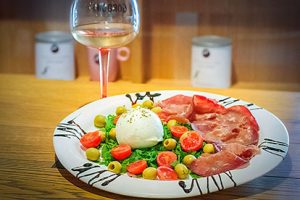 Fassona roast beef from Piedmont garnished with parmesan shavings, mixed lettuce greens, olive oil, balsamic vinegar and walnuts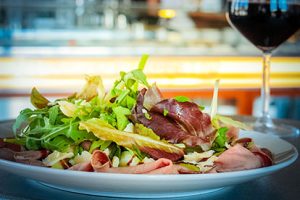 "Pasta salad with zucchini puré, dried tomatoes, buffalo milk mozzarella, smoked salmon and grilled zucchini" and a "Glass of sparkling wine"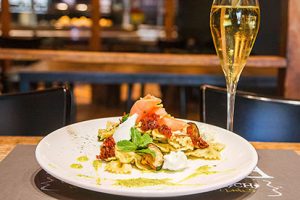 A mix of toasted, minced almonds, cocoa powder, chickpea flour, cinnamon and lemon zest encased in a thin sheet of shortcrust pastry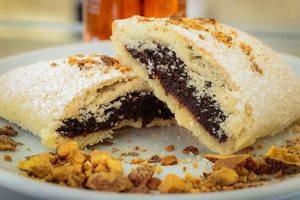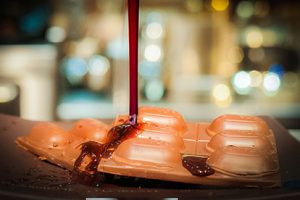 Parigina puff pastry pizza with sausage, friarielli peppers and provola cheese, accompanied by a flute of Mionetto prosecco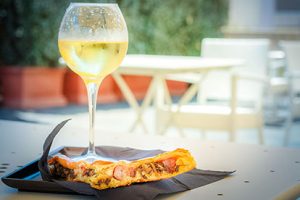 Platter of cold cuts, cheeses and Sicilian citrus marmalades, accompanied by a glass of Nero d'Avola red wine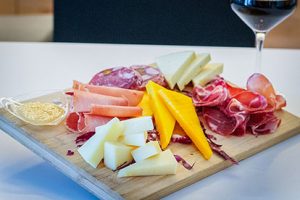 Sicilian rice ball filled with swordfish, onions, capers and olives, accompanied by a glass of prosecco.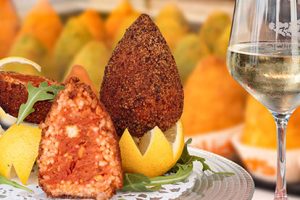 Pistachio-crusted swordfish cubes with diced vegetables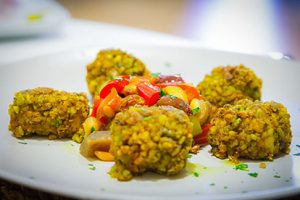 Raw fish tasting menu featuring tuna tartare, Mazara red prawn, oyster, fasolaro smooth clam, langoustine and grouper carpaccio